You've always loved the violin.
But have you given up on playing the way you once imagined?
If you're like me, you know there's something special about the violin. That beautiful sound melts the hardest of hearts; it touches the deepest part of the soul.
But as a violin player, there's often a dark side. Like me, you've probably had more than a few struggles with the violin. Mastering it, or just playing consistently at your best can be mysteriously elusive.
Today, after years of work, it's become clear that when I fought tooth and nail for any sign of progress on my violin, the struggle had little to do with the instrument itself. I was my own worst enemy in an endless "mind game." And all too often I was losing.
The truth: moving ahead on the violin has nothing to do with your age, "natural talent" or a busy schedule.

Bill Alpert / Site Founder
For most of us, the biggest challenge of learning to play the violin, has nothing to do with the violin itself. Neither is it a lack of talent or spare time. Using the dual lenses of personal development research and mindfulness practice, InvincibleViolinist.com shines a spotlight on what's holding you back and how to take your playing to the next level and beyond!
It's no surprise that learning to play the violin requires using and refining your life skills. Why do we put these on the shelf whenever we take out our instruments as we mindlessly repeat the same mistakes over and over?
Playing the violin is no one single skill. Instead it's a collection of many skills both on and off the instrument. Your mental and physical approach to these skills matters. Even the order in which you master them makes a difference.
What I've learned (and what I'm still learning) as a lifelong performer and teacher of the violin, I share with you in this blog and in my regular emails.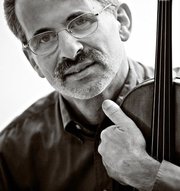 Hi, I'm Bill Alpert I'm a lifelong student of self development and skill mastery in areas ranging from the performing arts to marketing and entrepreneurship. I apply and share what I'm learning to help my students and readers uncover their very best on the violin, and in life.
My emails and blog will show you how to:
Get clear about what it really takes to improve your playing and even exceed your aspirations on the violin
Learn to enjoy your practice time. You'll be shocked at how that changes everything.

Destroy limiting patterns and find immediate and noticeable successes in violin – and life.

If you'd like to be added to my mailing list, drop me a quick note at the following email address: bill at thealpertstudio dot com
About Bill Alpert / I teach and play the violin. My performing and teaching spans decades in professional symphony orchestras, in the recording studio and in community/private studio string education programs. Along with my opera singing/voice teacher wife, Melanie Alpert, I founded The Alpert Studio of Voice and Violin. Read my full bio here.
More…