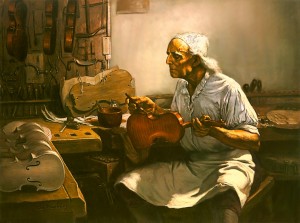 Could that violin you've been storing in the closet be a Strad worth millions?
There are literally millions of violins in existence that bear the label Antonius Stradivarius; they're almost all copies of the classic "Strad" model made famous by the master from Cremona, Italy. Antonio Stradivari handcrafted about 700 instruments during his lifetime. All but 100 are accounted for.
Even though your instrument may not be a real Strad, it still may have considerable value. Strad copies range from junk level factory made instruments to very fine handmade violins worth thousands of dollars. The maker, construction and condition of your instrument all go into determining its value.
The best way to determine the value of a violin is to get an appraisal from a violin shop (luthier.) He or she will be able to determine the authenticity of your instrument, the cost of needed repairs and an approximate market value. A more formal written appraisal might be warranted if you own a fine instrument. You should expect to pay a fee for such an appraisal.
The greatest value your violin might hold is the joy it can bring you when you play it. Fix it up; get some lessons and make some music!
—
If you find this information helpful, please share or tweet this page or post, using the buttons below. Thanks!