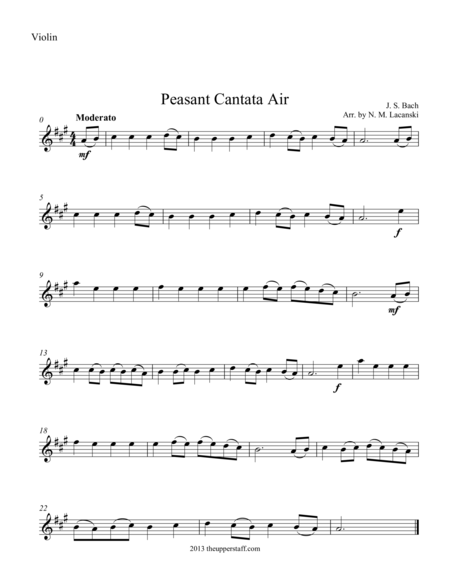 Bowing Practice Guide for Bach Peasant Cantata
June 2017: Bach Peasant Cantata
Musicians young and old love to spend most of their practice time learning songs. I admit, song time does seem a lot more interesting than practicing scales and exercises.
But there's a trap that catches so many song learners. It snares even experienced musicians.
It's kind of an optical illusion: it appears that the music lives somewhere in those little black notes on the page. So we spend a lot of time looking at the page.
Somewhere along the way we lose track of the music itself. We are stuck in the quicksand of those black dots while at the same time trying to navigate our instruments.
Here's the truth that explains why people who can't read music at all are often fabulous musicians:
Songs contain more than a series of pitches, one after another. A lot more.
It's a long list: articulation, phrasing, tone, groove, harmonic motion, and much more.
Yet too often, we can't see the forest for the trees with our noses buried deeply in a music book, and our limbs mirroring a plodding rhythm that faintly resembles the original.
With that said, this month we'll explore a better way to learn songs. Not from the printed page but instead from the inside out. We'll try to capture the true energy that powers a song and learn to share it with our listeners.
---
J.S. Bach is mostly known for his serious religious music. But remember, the famous composer was a real human being, not made of marble. The Peasant Cantata beautifully illustrates Bach's lighter side.
Let's begin our journey inside this music by simply listening and enjoying the short video above.
You may have heard this song (aria) performed like a church hymn. But this lively performance illustrates the text (lyrics) beautifully.
The music opens with a rustic dance tune. A young couple then sing a happy duet to celebrate the arrival of a new lord of the manor who gives them beer — "real strong stuff."
Clearly, this isn't the Bach you might have expected to hear! So this week, let's enjoy the music by watching the video a few times. You can also download the sheet music, which we'll be using beginning next week.
Next week we'll learn the two bowing motions that bring this music to life. Stay tuned!